Best Option for Dumpster Rental Durham NC Can Trust
Peak Disposal is your one-stop shop for a dumpster rental Durham NC residents, contractors, and business owners can rely on. We provide our customers with excellence in customer service that sets us apart from other companies. Area homeowners and contractors have used our services for years to get their jobs and projects completed on time and on budget. Let us prove to you why we're the #1 choice for roll off container rentals in Durham County today!

Being a family-owned and operated business means we really care about our customer's experience with our dumpster rental Durham NC uses to meet a range of project needs. Our happy customers have left hundreds of 5-star reviews to express their positive experience with our team of professionals in the Durham, North Carolina area. We're confident we have the perfect roll off container you need to help you get the job done at a price you can afford.

For the dumpster rental Durham NC homeowners use when they have cleanouts inside and outside their homes, choose our convenient selections and services. Contractors in the area count on our dumpster rental near Durham NC to help with disposal for a time-sensitive development job and ongoing projects. We have a professional staff and friendly service to make your next container rental a breeze. Give us a call at (919) 704-0940 today and see what makes us the best dumpster company in the area.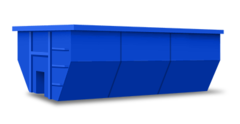 Dimensions
12' x 8' W x 3'H
Included Tonnage
1.5 included
Additional Days
:
$15/day
Extra Weight
:
$60/ton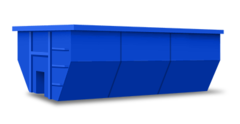 Dimensions
12' L x 8' W x 5' H
Included Tonnage
2 included
Additional Days
:
$15/day
Extra Weight
:
$60/ton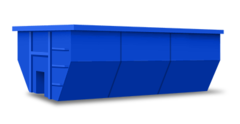 Dimensions
22'L x 7.5'W x 6'H
Included Tonnage
3 tons included
Additional Days
:
$15/Day
Extra Weight
:
$60/ton
We Take Just About Everything
Some examples of the junk we haul away include
Refrigerator Disposal

Garbage Removal

Mattress Disposal

Foreclosure Clean Outs
Construction Waste Removal

Yard Waste Removal

Trash Removal

Appliance Removal
Television Disposal & Recycling

Furniture Removal

E-Waste Disposal

Hot Tub Disposal
Why Choose Us for Your Dumpster Rental in Durham NC
At Peak Disposal, our dumpster rental in Durham NC options have been providing the area with cost-effective solutions to debris disposal for many years. Our customers receive a well-maintained, easy-to-load dumpster they can use for up to seven days. Our drivers are courteous and professional, delivering your roll off where you need it. If it's your first time renting a dumpster, don't fret. We will provide you with helpful tips along the way and are always available for ongoing support.

As a fully licensed and insured family-owned business, we prioritize customer satisfaction and safety above all else. We partner with industry-leading manufacturers to ensure all of our heavy-duty containers are easy to load and can withstand appropriate tonnage on an ongoing basis. We regularly clean and sanitize our containers, making it that much more appealing to rent from our responsible, dependable, and experienced company. We understand many of our customers are searching for a dumpster rental Durham NC locally owned option and we're happy to cater to our community by offering versatile, convenient selectios for all needs.

When you use our simplified online system to book your dumpster rental in Durham NC, you have access to flexible, on-demand scheduling anytime, 24/7. Clear, competitive pricing and no-hassle delivery and pickup is our guarantee when you reserve a rental from our team. Call our customer service staff at (919) 704-0940 if you would rather complete the reservation over the phone, or if you have specific questions regarding a budget dumpster Durham can trust.

Various Uses for a Dumpster Rental Durham Can Depend On
Whether you're sprucing up your landscaping, finally getting around to cleaning out the attic, or are searching for ongoing waste management support for the hotel you manage, our staff is here to help guide you through our time and energy-saving process, from picking the perfect size container to help you get the job done to delivering it on-time in a careful and convenient manner. Our experienced drivers make sure to expertly drop off containers at the location of your choosing and as soon as you've filled the dumpster, we'll be on-site to haul it away in no time.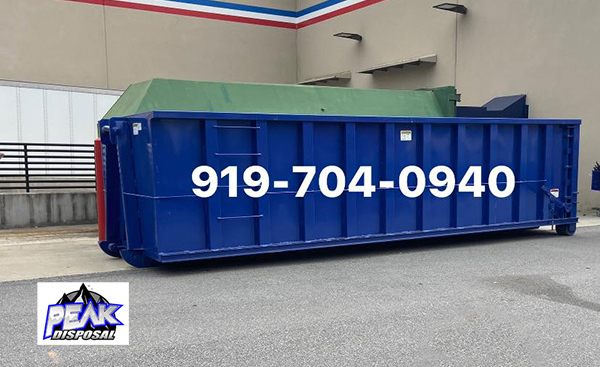 For the #1 dumpster rental Durham residents, contractors, and business owners depend on for quality services and selections, choose our team of professionals at Peak Disposal. With years of experience providing 5-star reviewed rental options to our communities, we know what it takes to help get your project rolling in a timely, convenient, and affordable way.

We partner with Fogleman Landfill to ensure all waste is disposed of in accordance with city, county, and state regulations. When you work with our small business, you're working directly with people who care about the cleanliness of our communities, which is why we do our party to properly discard all garbage in a sustainable and professional way. We're the top provider for dumpster rental Durham can trust to manage the waste in a responsible way.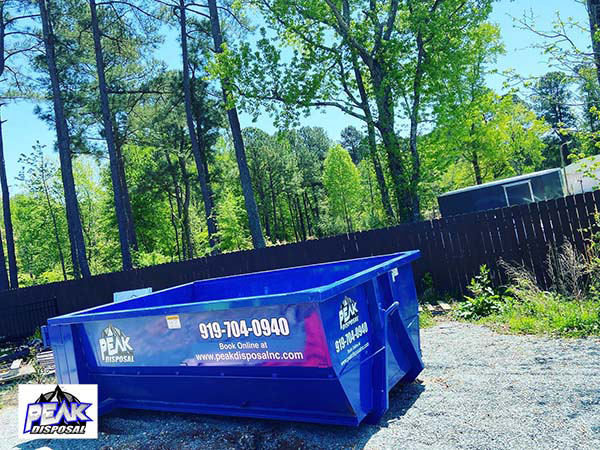 Heavy Duty Construction Dumpster Durham NC Contractors Use Regularly
We carry many options for a construction dumpster Durham NC customers count on for a range of jobs. Contractors choose Peak Disposal for reliable drop-off and pickup, with proactive communication for the duration of the rental. Construction professionals need flexible scheduling and responsive service on-demand when renting containers to support their short or long-term projects. It's our goal to offer cost-effective and efficient solutions so that construction debris doesn't pile up, creating more work and cutting deeper into your budget. We keep up with the demands a construction site brings by offering speedy delivery and pick up.

Our durable roll offs are built to haul away a range of construction materials including lumber, drywall, plastic, piping, and various waste. Jobsite safety and environmental compliance are essential on construction and demolition sites, and our construction dumpster Durham NC is just the tool for the job. Count on our team to manage your construction debrisin a reliable and convenient manner. Call today at (919) 704-0940 or go online to get our contractors' best price.

Rent a Commercial Dumpster Durham NC Business Owners Count On
Keep your commercial space waste-free and looking its best with a dumpster Durham NC business owners, property managers, and employees can rely on to help get the job done right the first time! Whether you're on the hunt for added support during foreclosure cleanup or need ongoing waste disposal for your hotel, apartment complex, or residential living property, our team of friendly and reliable rental professionals is here to help guide you through the process.

We regularly work with restaurants, schools, churches, retail boutiques, office parks, retirement facilities, hotels, apartment complexes, and other commercial properties to ensure their spaces stay clean and organized for the benefit of their employees, customers, residents, tenants, and guests. Book your trash dumpster rental Durham NC commercial managers trust to keep their businesses on track by using our online scheduling system or by giving us a call at (919) 704-0940.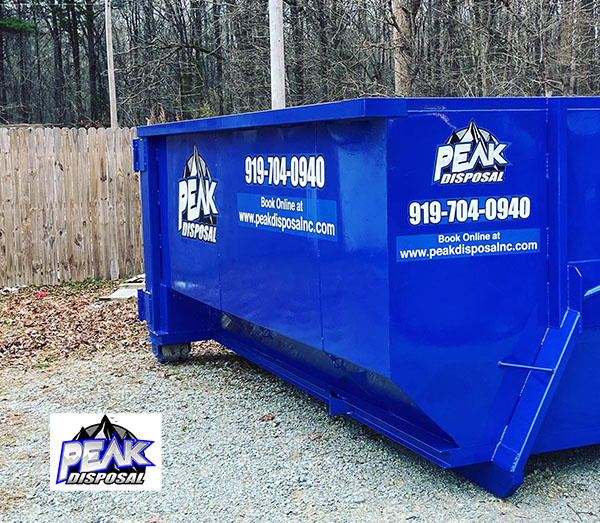 Convenient Residential Dumpster Durham Homeowners Use for All Sorts of Projects
When it's time to de-clutter and cleanout your home, use the dumpster Durham residents count on for convenient delivery, reasonable prices, and dependable service! Whether you're downsizing to a new location and need to have worn out furniture hauled away or are getting started on a single-room remodeling project, the experience and support of our team will help you get your home improvement or cleaning project finished in no time. Our driveway-friendly dumpster will be delivered at the time and place of your choosing so you can fill it at your convenience, then one of our experienced drivers will haul it away as soon as you're ready.

We regularly rent out our garbage dumpster rental Durham NC homeowners can rely on for a wide range of residential projects including garage, attic, or basement cleanouts, appliance or furniture removal, outdoor projects like roofing or deck repairs, single-room remodeling, estate sale preparation, and so much more. You no longer have to worry about filling your car with junk and making multiple trips to the landfill. Just give our team a call or book online to make your residential project an easy breezy experience!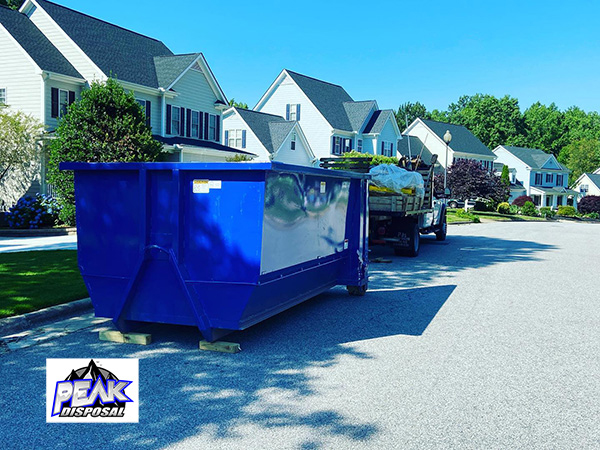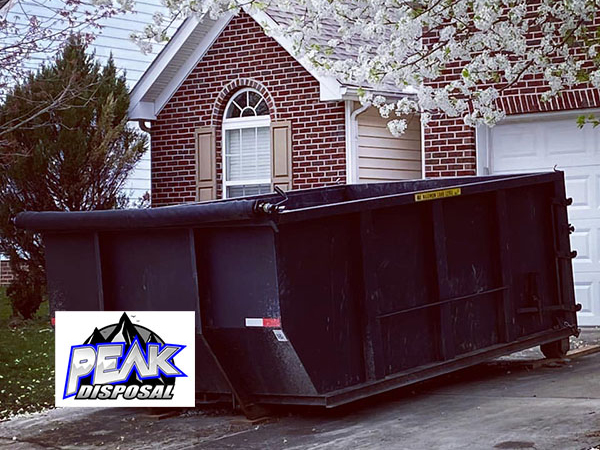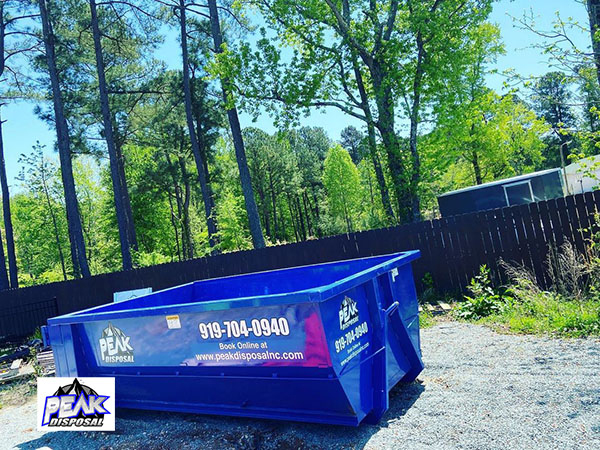 Schedule a Dumpster Durham, NC Residents Trust for Yard Waste & Outdoor Projects
Spruce up the yard with a dumpster Durham, NC homeowners use for a range of yard and landscaping projects! Whether you're clearing out debris after a bad storm, cleaning out the gutters in between seasons, or working on your overflowing garden, we're confident one of ourr roll off containers will help you clear out the yard waste in no time.

Our heavy-duty containers are built to haul away various types of debris including brush, tree stumps, limbs, lawn trimmings, roofing materials, and more! Whatever the scale or scope of your outdoor project, we have no doubts our roll off containers will help make your yard waste clean up a walk in the park. Book yours online today!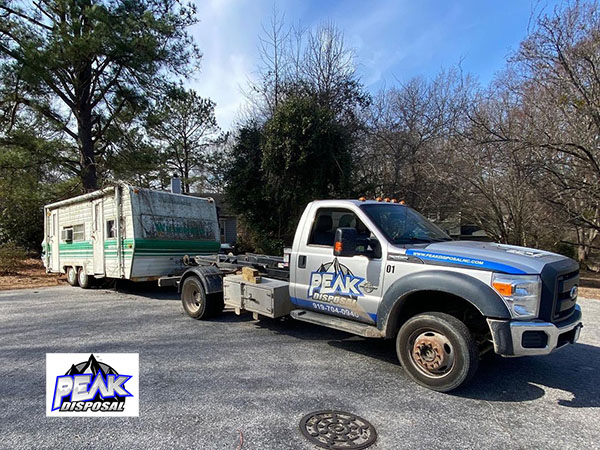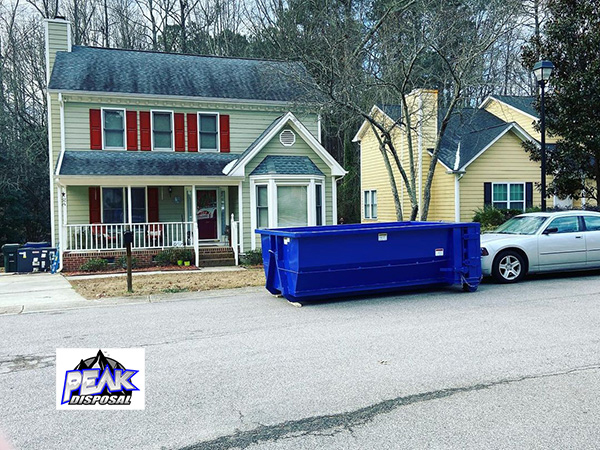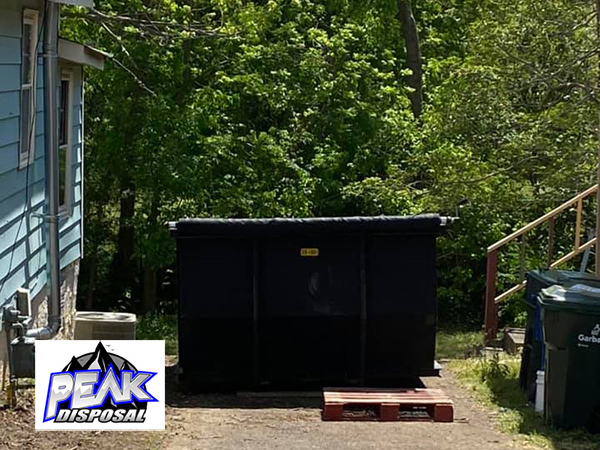 How to Book a Durham NC Dumpster Rental
When you're ready to book your Durham NC dumpster rental from the friendly and professional team at Peak Disposal, we make the process simple and straightforward. You can manage everything online with convenient scheduling and payment. Take a look at the steps below and get started reserving your roll off container today!

1) Click on the blue "Book Now" button in the top right corner to get started.

2) Choose which size dumpster Durham, NC best suits your project.

3)Choose the delivery and pick-up dates.

4) Enter your contact information, dumpster placement preferences, and a description of the debris you want disposed of.

8) Select your payment method, and enter payment using any major credit card and out secure system.
Receive an email confirmation of the reservation for your dumpster.

One of our friendly reps will be in touch prior to delivery to confirm a drop off window that works best for your schedule. It's always our goal to make your experience booking one of our Durham NC dumpster rentals homeowners and contractors depend on a stress-free one and to exceed expectations by going above and beyond with every rental. Book yours online today or give us a call at (919) 704-0940 to speak with one of our team members about our prices and policies.
Durham Dumpster Sizes and Prices That Meet the Needs of Every Project
Peak Disposal is the area's #1 choice when it comes to a reliable and heavy-duty Durham dumpster rental. Our prices are cost-effective and they come with no surprises. We have well-maintained roll off containers that are easy to load and can handle your debris from construction sites, household cleanouts, or yard waste. Take a look at our various sizing options below and book your rental online today!

10 yard: Our smallest container is the 10 yard, which homeowners and businesses utilize regularly. Beginning at $265, this rental is for up to seven days with extra days available at just $10 per day. We have an extra weight option this is offered at just $55.00 per ton. This size bin holds the equivalent of four pickup loads and is an excellent option for attic or garage cleanouts or heavy compact materials, and appliance disposal. We're confident you won't find dumpster rental Durham NC prices better than this!

15 yard: Our largest container is competitively priced at $295.00. This rental is for up to 7 days as well with extra days again at $10 per day. The extra weight option is priced at $55.00 per ton for this bin also. This container holds the equivalent of six pickup loads and will accommodate bigger jobs for a variety of projects including construction and residential projects.

The value is incredible and our prices can't be beaten. We offer flexible delivery options at your convenience, so if you're searching for next day dumpsters Durham NC can depend on, look no further. Peak Disposal keeps prices low without sacrificing the customer service and high-quality rentals that you deserve. We understand many people are searching for a cheap dumpster rental Durham NC


Providing Dependable Durham, NC Dumpster Rental to Surrounding Areas
We've been serving the area with 5-star rated Durham, NC dumpster rental selections for many years and have become a household name for affordable, reliable, and durable options. We regularly partner with local businesses, hotels, neighborhoods, office parks, and Durham Public Schools to ensure our communities stay waste-free and looking great.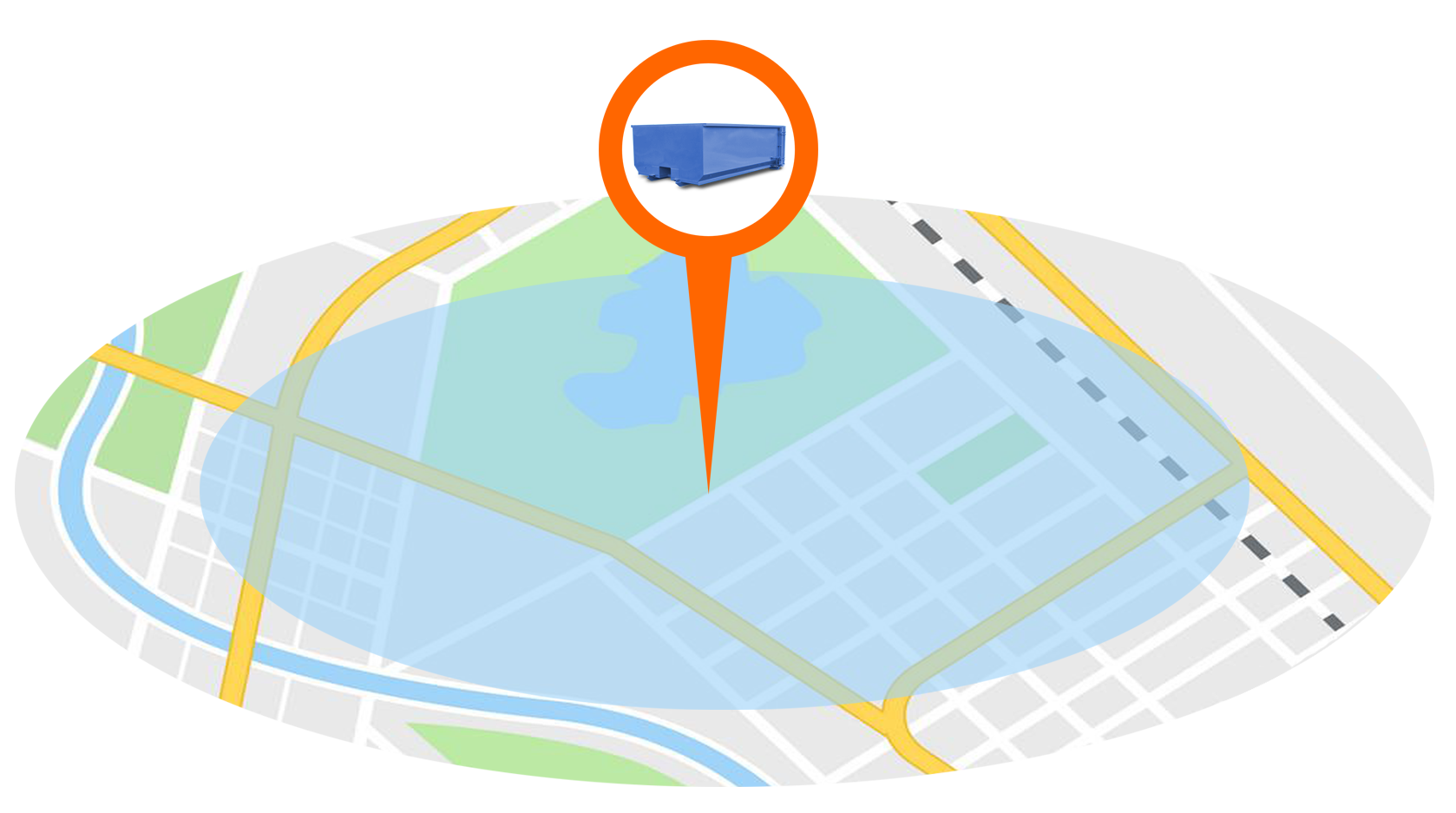 There's no need to spend hours searching for the perfect
dumpster rental near me
with our range of options. Along with providing affordable service to most of Durham County, we provide roll offs to Apex, Cary, Raleigh, Holly Springs, Morrisville,
Pittsboro
, Fuquay Varina, Sanford, Moncure, and Chapel Hill. We're happy to offer delivery to the 27503, 27517, 27560, 27701, 27703, 27704, 27705, 27707, 27709, 27712, and 27713 zip codes. Don't see your city or zip code listed? Don't worry. We can typically make arrangements to deliver our Durham, NC dumpster rental outside of our typical service area. Just give us a call at (919) 704-0940 to get started!
Service Area
FAQs for our Durable Durham Dumpster Rental Selections
Do you have questions about our Durham dumpster rental? Our expert team has the answers. Whether a first-time or a repeat customer, questions come up specific to the project that you have. Take a look at just a handful of our frequently asked questions below and get in touch with us if you need additional information before reserving your roll off container today!

Q.
How long do I get to use my dumpster rental?
A.
The standard rental is up to seven days. If you need the container for an extended time give us a call and we will work out the details. Extra days are priced at just $10 per day. If you would like a custom quote for your project needs or are looking for quick next day dumpsters - Durham NC, give our office a call at (919) 704-0940 to speak with one of our staff members.

Q.
Do I have to be there when the dumpster is dropped off?
A.
Only if you prefer to be. Usually, your dumpster can be delivered even if you are not present at the drop-off address, provided that you have left accurate instructions for its placement. We will reach out if there are questions about placement.

Q.
What can and can't go in a dumpster?
A.
No items that are classed as hazardous should be loaded into the dumpster. Hazardous items include but are not limited to flammable and toxic materials. If you have specific items in question, give us a call. Any household solid waste or construction debris such as asphalt roofing shingles and sheetrock are allowed. As a rule of thumb, any item that is acceptable at the curbside can also go into a dumpster.

Q.
Do I need to load the dumpster in a particular way?
A.
Yes, our budget dumpster rental Durham NC can't get enough of should be loaded in a way that the debris inside is spread out evenly when possible. Do not try to overload the dumpster, meaning that the trash should not pass the top of the container. Our drivers cannot haul overloaded dumpsters for the safety of your property, job site, and our containers.

There are many more questions that customers have about our Durham dumpster rental options and we have heard them all. Feel free to call us with any questions before or after your rental experience at (919) 704-0940.